Introduction
Waste to wonder par is a newly constructed theme park located in Delhi. This park has been opened for general public recently since February 2019. The main attraction of this park is that all seven wonders of the world are created using the scrap metal. They have also shared the details of the usage of various material in each building.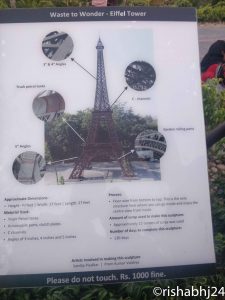 The replicas are quite small in size as compared to the original monuments. Though they are made on the same scale, for example, the angle of the leaning tower of Pisa is the same as that of the original.
How to Reach
Park is made near the infamous Sarai Kalle Khan Bus Terminal and thus can be reached easily via car. Parking is available outside the entry gate, but it is limited. It might get tricky to find parking on a crowded day like weekends or other public holidays.
A most convenient way to reach would be to take the metro and de-board at Nizzamudin Metro Station on Pink line. You should exit from gate no. 3 and walk towards the park. It is just a 400-500 meters walk.
Tickets and Timing
Tickets have to be bought in cash from the ticket counter at the gate. There is no provision to purchase tickets online yet. Ticket prices are:
For Children 3-12 years of age: Rs 20
For Adults 12-65 years of age: Rs 50
Entry is free for infants and senior citizens outside this bracket.
Park timings are from 10 AM to 10 PM, though last ticket sale happens till 8 PM only.
Experience
Visiting Waste to Wonder park would be a new experience for anybody as it is the first park of its kind. It is inspired by the seven wonders park in Kota, Rajasthan. All monument replicas have been well fitted with lights, thus making it a beautiful experience even after sunset. Park also has some many spots for clicking pictures like a waterfall, fountain, and several trees and huts. I am sharing the views of all the monuments so that you would know what to expect.
One issue is that there are no food stalls inside the park of any kind yet. There are talks to establish a canteen to provide food from all the seven wonder sites.
Washroom facilities are available near the entry gate. Visitors can get some snacks and chips from the eateries outside the entry gate.
Overall Verdict
Waste to Wonder park could be an ideal destination to take kids for a picnic. It will be a fun and knowledgeable outing for the kids, and they can spend two-three hours in the park.
Park will also be a new experience for adults, and they can also spend almost an hour visiting this park. One should expect a substantial crowd on weekends and evenings, and it may take up to half hour to get the tickets as there are huge queues at the ticket counter. So go ahead and have a great time at this beautiful waste to wonder park.
If you have any other questions or feedback, please feel free to comment below.