Nagaland is one of the northeastern states of India. Some of the things that you might know about Nagaland would be the name of its Capital, Kohima and that it has a considerable number of tribal people. Some travelers might have heard about the Hornbill festival and Dzoukou Valley trek. It is true that people rarely talk about Northeast India and even lesser about Nagaland, but it is one of the best places to experience the diverse culture of India. Let me walk you through my personal experience of visiting Nagaland, and why should you also attend the hornbill festival.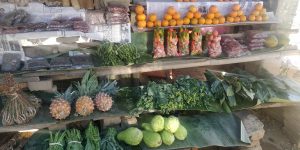 Reaching Nagaland
A most popular way of reaching Nagaland is via Dimapur, one of the better-developed towns of Nagaland. Dimapur is the last railway station of Indian Railways network. Several daily trains are available from Siliguri or New Jalpaiguri station. Dimapur also has an airport with regular flights from Guwahati and Calcutta airports.
Make sure you get an Inner Line Permit before going any further into Nagaland. Police may ask you to present your ILP at any point within the state. It can be obtained at Nagaland House in other states and even at Dimapur railway station.
From Dimapur, one has to take a long 4 to 5-hour journey to Kohima. Though the actual distance is just 70 Km, the condition of the road is not good. It has been into construction for five years. It makes the travel little tricky and tiring. Sumos are readily available outside the railway station on a sharing basis, and they charge Rs 400 per person. One Sumo will take ten people at a time. For more comfort, you can book passenger cars for Rs 2000-2500 per car. Do not expect any cab aggregators or technology-based startups anywhere in Nagaland.
Reaching Kohima and Finding Accommodation
Kohima, as we all know is the capital city of Nagaland and is considerably well developed. It is comparable to tier 3 towns of the rest of India. You would find branded showrooms of many clothing and accessories brands. Some fine dining restaurants are also there. There are many ATMs available in the primary market area. It might get tricky to find an ATM in other parts of the state. Also, at the time of the festival, it gets challenging to get an ATM with cash.
For accommodation, many homestays are available, but you would hardly find any options on online booking sites. You can talk to locals or co-passengers on your train/plane to suggest some possibilities. We stayed at Dimori Cove resort in Kasama. They have a wide variety of options ranging from luxurious rooms to dormitories. They have an elegant looking restaurant with healthy and tasty dishes for breakfast, which is complimentary.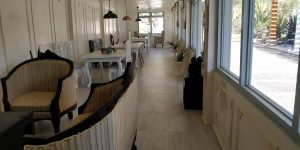 You can plan to visit Kohima war cemetery, one of the landmark sites of world war II.
Hornbill Festival
Nagaland tourism organizes Hornbill festival every year from 1st to 10th December. Festival is hosted at Naga Heritage Village, Kasama. Kasama is around 10 Km from Kohima and can be reached in half hour if there is no traffic on the road. The festival includes the display of different tribal cultures of Nagaland including their food, clothes, traditions, etc. Along with that, the site also exhibits a wide variety of plants, handicrafts, artistic skills and historical importance of Kohima.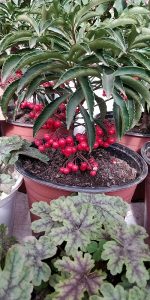 Nagaland has over 200 different tribes living in different villages each with their own cultures, traditions, food, and clothes. Various performances of cultural groups of several tribes are organized in the main arena. The schedule for these performances is available on the website of the Hornbill festival.
Sports competitions are organized for several tribal games in which players represent their tribes. One such match was an indigenous shot put which we saw. It involved throwing a big slab of stone from a fixed line.
Naga Heritage village has small areas for some of the significant tribes to showcase their traditions. In those huts, one can meet people from that tribe, try their local food and also indulge in some activities like cooking or shooting, etc.
Several rock concerts are also organized at the venue in the evening.
For food, one can eat in different tribal naga huts, or there are other food stalls also present around the area. Many outlets have buffet options for nonvegetarian as well as vegetarian food.
Also, there is a night carnival which takes place in the capital city of Kohima. It is a beautiful evening of music, lights, and food.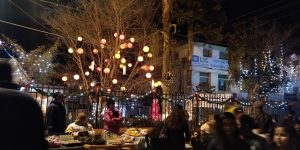 I have created a video to capture some of these activities, have a look for yourself. Also, it is my first youtube video, so show some love and subscribe to my channel.
Kohima War Museum
The venue also has a museum dedicated to Battle of Kohima in World War II. It was an iconic battle for Subhash Chandra Bose led the Indian National Army. It is said that Netaji was last seen in this battle. INA at that time was supporting the Japanese troops to fight against the British Army. Since India was under British control at that time, there were several Indians also fighting from the British side. Due to International pressure and other reasons, Japanese troops fell short of food supplies and ammunition which led to their defeat in the end. Before the battle of Kohima, INA fought the battle of Imphal in which they successfully defeated the British Army. There are a Japanese war memorial and Netaji's museum in Imphal which also holds historical significance.
Dzukou Valley
Dzukou valley gets its name from Valley of flowers. It is advised to visit in the spring season to see the valley in its full colors. It takes almost six to seven hours to trek one side. You should spend a night in the valley, tents are available at the summit, and you need not carry your tents.
We could not do the trek due to lack of time.
Picture
I hope this blog inspired you to visit Nagaland. If you need any further information, you can comment below.